LTX by Broadridge Launches BondGPTSM Powered by OpenAI GPT-4
Generative AI application available to LTX clients immediately will enhance liquidity and price discovery and fuel trading in the $10.3 trillion U.S. corporate bond market
NEW YORK, June 6, 2023 – LTX , a subsidiary of Broadridge Financial Solutions Inc. (NYSE: BR), today announced the launch of BondGPT, an application powered by OpenAI GPT-4 that answers bond-related questions and assists users in their identification of corporate bonds on the LTX platform. By incorporating real-time liquidity information from the LTX Liquidity Cloud®, this application will simplify workflows and bring further efficiency to users in their often-complex bond selection and portfolio construction processes, benefiting asset managers, hedge funds and dealers.
"Emerging technologies such as generative AI hold immense potential to drive electronification and transparency in the corporate bond market," said Jim Kwiatkowski, CEO of LTX. "By increasing the use of data and applications like BondGPT, market participants can inform and expedite vital pricing decisions, facilitate counterparty selection, and broaden liquidity access. We are proud to accelerate the use of these innovations as we work towards smarter and more efficient trading processes for the industry."
BondGPT offers a large language model (LLM) chat function that allows users to ask questions and identify corporate bonds on the LTX trading platform based upon the user's criteria. The new, conversational interface leverages LTX's Liquidity Cloud and patent-pending bond similarity technology, which filters based upon a vast set of user-adjusted parameters to assist in identifying bonds with similar characteristics to meet traders' real-time liquidity needs. BondGPT combines the power of GPT-4 with LTX's patent-pending analytics and comprehensive underlying dataset for data timeliness, accuracy and compliance in a highly regulated financial services sector, avoiding hallucination issues common in other implementations.
"LTX's innovative implementation of generative AI for BondGPT offers portfolio managers and traders a new approach to pre-trade analysis, departing from traditional methods," said Miguel Cota, VP & Senior Credit Trader, American Century Investments. "This opens up unprecedented possibilities for credit investment professionals."
"BondGPT powered by OpenAI GPT-4 is available to all Broadridge LTX clients today," said Martin Koopman, Chief Product Officer and Co-Head of AI, Broadridge. "It adds generative AI to build on the AI neural network that LTX has used since launch. BondGPT is the first of many products and services Broadridge will release to our clients using this powerful technology in a safe manner, leveraging our deep regulatory knowledge and data privacy standards."
To date, more than 30 dealers and more than 80 asset managers have joined the LTX platform, representing a significant liquidity pool. LTX has attracted many of the world's leading asset managers and dealers, with over $7 billion in initiated firm orders and an average daily volume of over $25 billion in the Liquidity Cloud in Q1 2023.
See below for sample BondGPT queries and responses.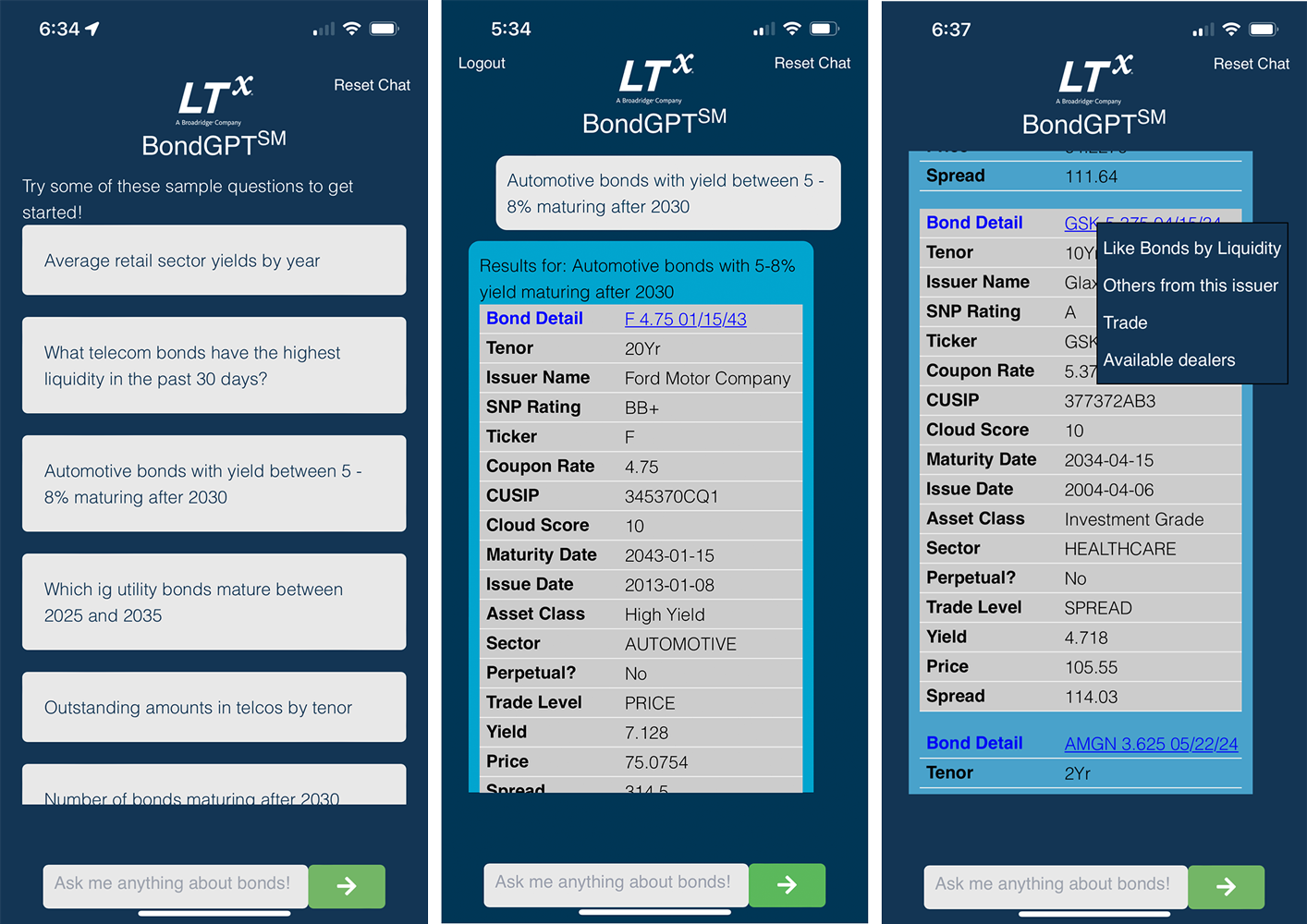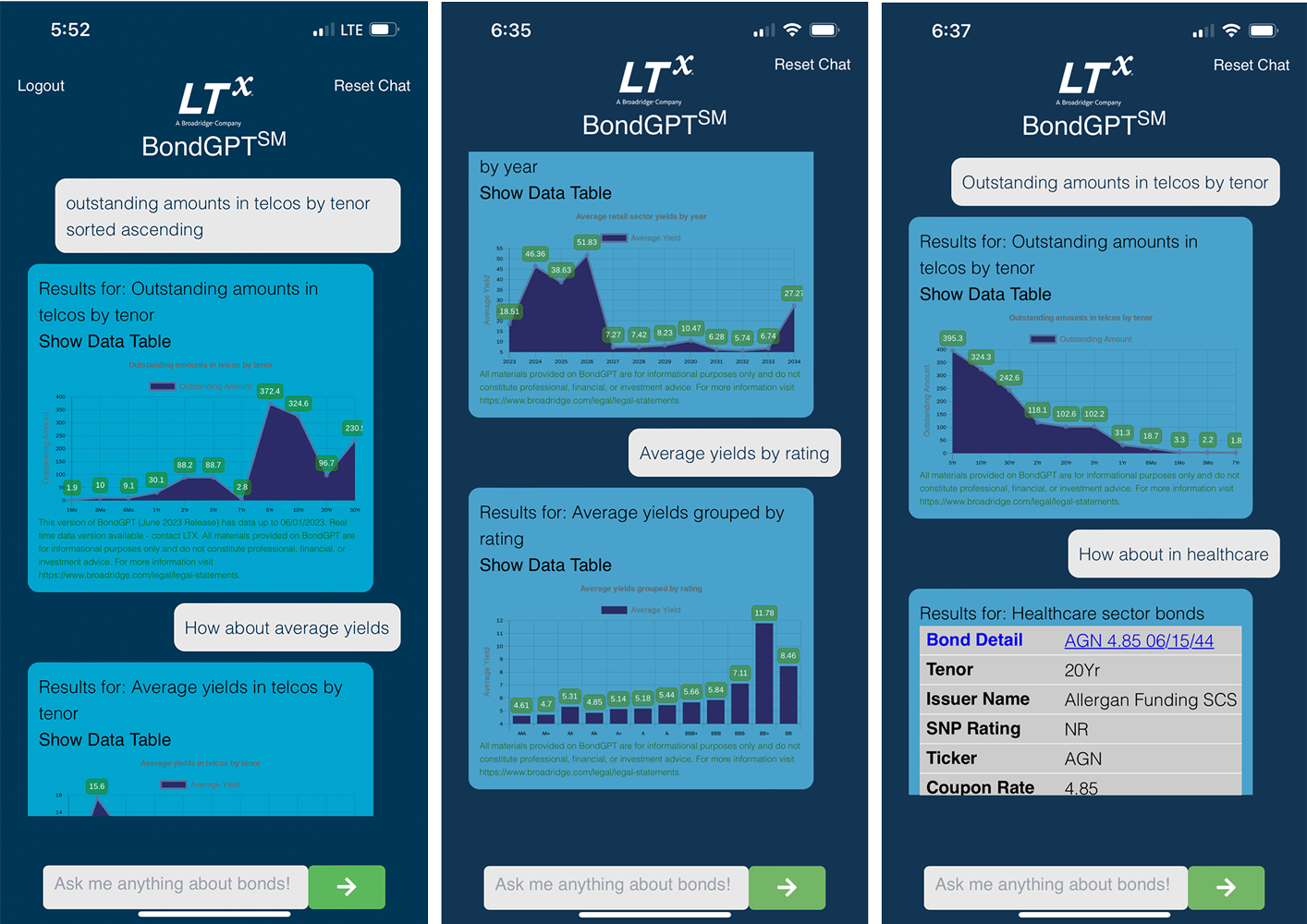 About LTX
LTX is an electronic trading platform that enables corporate bond market participants to trade smarter, combining powerful, patented artificial intelligence with innovative e-trading protocols to improve liquidity, efficiency, and execution. The Liquidity Cloud is the LTX network of anonymous real-time buy- and sell-side indications of interest which include CUSIP, direction, price, and size.
LTX is a division of Broadridge Business Process Outsourcing LLC, the broker-dealer subsidiary of Broadridge Financial Solutions.
For more information, visit www.ltxtrading.com.
About OpenAI
OpenAI is an AI research and deployment company. OpenAI's mission is to create safe and powerful AI that benefits all of humanity.
About Broadridge
Broadridge Financial Solutions (NYSE: BR), a global Fintech leader with over $6 billion in revenues, provides the critical infrastructure that powers investing, corporate governance, and communications to enable better financial lives. We deliver technology-driven solutions that drive business transformation for banks, broker-dealers, asset and wealth managers and public companies. Broadridge's infrastructure serves as a global communications hub enabling corporate governance by linking thousands of public companies and mutual funds to tens of millions of individual and institutional investors around the world. Our technology and operations platforms underpin the daily trading of more than $10 trillion of equities, fixed income and other securities globally. A certified Great Place to Work®, Broadridge is part of the S&P 500® Index, employing over 14,000 associates in 21 countries.
For more information about us, please visit www.broadridge.com